Can I pay for a seat to a public program by invoice instead of by credit card?
It is highly recommended to pay for all seats to public programs by credit card on our website, as online registration is the only way to guarantee your seat. (When paying by credit card you will receive proof of payment for the online order.)
While we can invoice you for a seat, we cannot hold a seat for a given training program. The training date for the purchased seat is not secured until payment is complete and you register online.
Note: Invoicing is only available if you are purchasing more than 5 seats.

Our trainings typically sell out and seats are sold on a first-come, first-served basis.
We recommend starting this process well in advance of the date that you would like to attend the training.
The process for purchasing a seat by invoice is described next.
An invoice will be sent from LUMA's finance department. Please note that this request does not guarantee or reserve seats for public training. Seats are not reserved until payment has been received and LUMA confirms your spot. Payment must be received at least 24 hours before the start date of the training.
1. Contact us and include the following information:
Name and email address of the individual who should receive the invoice.

Name and email addresses of individual(s) attending the training.

Postal address of the organization as you would like it to appear on the invoice (The "bill to" information)

NOTE: At this time, LUMA is unable to accept Purchase Orders that would override the terms and conditions described in the registration process. Further, LUMA is unable to send an invoice with any payment terms other than: "payable upon receipt." If you need a purchase order or number to appear on the invoice, please, let us know.

Do you prefer to pay by bank transfer or credit card?

Does your organization fall under any of the following classifications? Nonprofit, Government Agency, or Educational Institution.

Are you tax exempt? If so, we will need a copy of your tax exempt certificate.

The start date of the training you are interested in attending.

Do you need a copy of LUMA Institute's W-9 tax payer ID form emailed to you?

Please let us know if your organization requires LUMA Institute to complete any forms to be established as a vendor.
2. We will email you an invoice that includes instructions on how to pay.
3. Once you pay the invoice and payment is received by LUMA, we will email you a promo code. (We can send the promo code to someone else, if you are purchasing the seat for another individual.)
4. You will register on luma-institute.com using the promo code, choosing from the dates/times that are available at that moment.
To register, go to the public training schedule page for the program of your choice. (Here is the schedule for the Practitioner Certification Program and here is the schedule for the Facilitator Certification Program.)
Click, Register next to the dates you are interested in.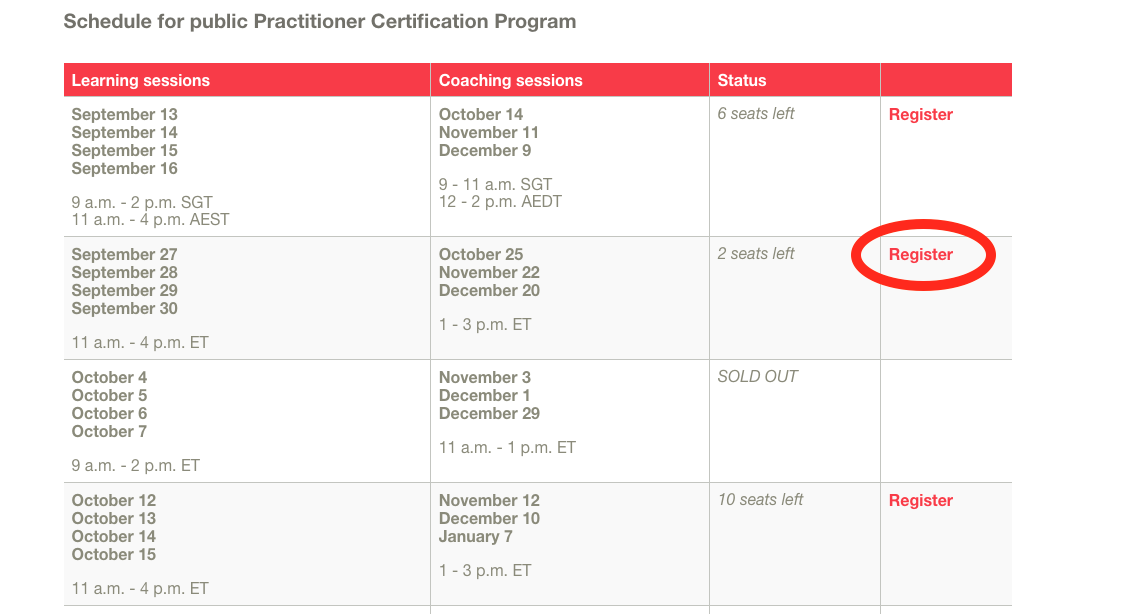 Type in the promo code you are given and click Update order.